When it comes to cooking and baking, I often find myself reaching for a lemon to add a burst of flavor and acidity to my dishes. But have you ever wondered how much juice is in half a lemon? It can be frustrating when a recipe calls for a specific amount of lemon juice and you're not sure if you have enough.
In this article, I will explore the factors that affect lemon juice yield and provide tips on how to get the most juice out of your lemons.
Firstly, it's important to understand that the amount of juice in a lemon can vary depending on a few factors. The ripeness of the lemon, its size, and how it's prepared can all impact the amount of juice you can extract.
By learning how to properly prepare a lemon and estimate its juice yield, you can ensure that you have enough juice for your recipe and avoid wasting any precious citrus.
So, let's dive into the world of lemon juice and discover how much juice is in half a lemon.
Key Takeaways
One average-sized lemon contains around 2-3 tablespoons of juice, so half a lemon would contain around 1-1.5 tablespoons of juice.
The amount of juice in half a lemon can vary based on the size and ripeness of the lemon.
Meyer lemons are sweeter and less acidic than regular lemons, while Eureka and Lisbon lemons are more acidic with a higher juice yield.
Adjusting measurements can be done with substitutes or diluting with water if you need more or less lemon juice for a recipe.
Factors Affecting Lemon Juice Yield
When squeezing a lemon, the amount of juice you get can be affected by several factors. Firstly, the ripeness of the fruit plays a crucial role. Ripe lemons are juicier than unripe ones, and they produce a higher yield of juice.
Additionally, the pressure you apply while squeezing the lemon also impacts the amount of juice you get. If you squeeze the lemon too hard, you may end up getting bitter juice, whereas gentle pressure will give you sweet-tasting juice.
Finally, the temperature of the lemon also affects the juice yield. When the lemon is warm, it releases more juice than when it is cold.
The factors affecting lemon juice taste are many, and using fresh lemon juice has several benefits. Fresh lemon juice tastes tangy and refreshing and has a unique flavor that is unmatched by bottled juice. Moreover, it's rich in vitamin C and antioxidants that help boost immunity and prevent several diseases.
To get the most juice out of your lemons, it is essential to use ripe fruit and apply gentle pressure while squeezing. Now that we know what factors affect the lemon juice yield, let's move on to how to prepare the lemon.
How to Prepare the Lemon
Now that you've got this little yellow ball of sour potential, let's get it ready for action. To prepare a lemon for maximum juice extraction, start by rolling it firmly on a hard surface to break down the internal membranes.
Then, cut the lemon in half lengthwise using a sharp knife. If you're struggling to get juice out of the lemon, try microwaving it for 10-15 seconds before cutting to soften it up.
When it comes to storing lemons, the best way is to keep them at room temperature or in the refrigerator crisper drawer. Avoid storing lemons in plastic bags or containers as they need air circulation to prevent mold growth.
Additionally, never store lemons near other fruits or vegetables that produce ethylene gas, as this can cause the lemons to spoil faster. With these lemon juice extraction techniques and storage tips in mind, let's move on to estimating lemon juice yield.
Estimating Lemon Juice Yield
To accurately estimate the amount of lemon juice you can extract, it's important to consider the size and ripeness of the fruit. Using a juicer can yield more juice compared to hand squeezing, but it also depends on the type of juicer you're using.
Centrifugal juicers are faster but tend to produce less juice compared to slow juicers, which can extract more juice but take longer. On the other hand, if you prefer the hand squeezing method, make sure to roll the lemon on a hard surface before cutting it open to help release more juice. You can also microwave the lemon for 20 seconds before squeezing to further soften it.
Regardless of the method you choose, keep in mind that the amount of juice you can extract from a half lemon also depends on the individual lemon's size and ripeness.
To measure the lemon juice, you can use a small measuring cup or spoon. Alternatively, if you don't have measuring tools on hand, you can estimate that one average-sized lemon contains around 2-3 tablespoons of juice. However, keep in mind that this is only a rough estimate, and the amount can vary depending on the factors mentioned earlier.
Measuring Lemon Juice
Measuring lemon juice accurately is important for recipes. Did you know that one average-sized lemon contains around 2-3 tablespoons of juice, but a larger lemon can yield up to 4 tablespoons or more? To achieve measuring accuracy, it's best to use a juicer or a manual press to extract the juice, as squeezing the lemon by hand can result in inconsistent measurements.
Here are three things to keep in mind when measuring lemon juice:
Choose the right size: As mentioned, the size of the lemon affects the amount of juice it yields. It's best to use the same size lemon throughout the recipe to ensure consistency in flavor and acidity.

Temperature matters: Lemon juice is more easily measured when it's at room temperature. If you need to warm up a lemon, microwave it for 10-15 seconds before juicing.

Different varieties, different yields: Meyer lemons are sweeter and less acidic than regular lemons, and may yield less juice. On the other hand, Eureka and Lisbon lemons are more acidic and have a higher juice yield.
Adjusting lemon juice measurements can be necessary depending on the recipe and personal preference. Understanding how to measure accurately and the different varieties of lemons can help you make the necessary adjustments to achieve the desired flavor and acidity in your dish.
Adjusting Lemon Juice Measurements
If you want to tweak the tanginess of your dish, you can always adjust the amount of lemon juice you use based on your taste preferences. However, if you find yourself without a full lemon or need to adjust for recipe acidity, there are a few things you can do.
First, you can try using lemon substitutes such as lime or vinegar. These will provide a similar acidity and tanginess to your dish without the need for a full lemon.
Another way to adjust for recipe acidity is to dilute the lemon juice you have. If you find that the juice is too strong, you can add a bit of water to it to make it less potent. On the other hand, if you need more acidity, you can always add more lemon juice. Just be sure to taste your dish as you go along so that you don't overdo it.
With these adjustments, you can make the perfect lemon flavor for your dish. Speaking of lemon juice, what can you do with leftover juice?
Using Leftover Lemon Juice
Now that we've talked about adjusting lemon juice measurements, let's move on to the topic of using leftover lemon juice. As someone who cooks frequently, I often find myself with half-used lemons and leftover juice. Rather than letting it go to waste, there are several ways to preserve and use the remaining juice.
One way to preserve leftover lemon juice is to freeze it in ice cube trays. This allows for easy portioning and use in future recipes. Additionally, leftover lemon juice can be stored in a sealed container in the refrigerator for up to a week. As for creative uses for leftover lemon juice, it can be added to salad dressings, marinades, and cocktails for a burst of flavor. It can also be used to brighten up the flavor of soups and stews. Overall, there are plenty of ways to make the most out of leftover lemon juice and reduce food waste.
Now, let's move on to some tips for getting the most juice out of your lemons.
Tips for Getting the Most Juice
As you strive to squeeze every last drop of sunshine from your citrus, remember that the key to getting the most flavor and liquid lies in the way you treat your lemons. Here are three tips for maximizing lemon juice extraction and preventing seeds from falling into your juice:
Use a citrus squeezer: A citrus squeezer is a useful tool for extracting juice from lemons without making a mess. Place the lemon half cut-side down in the squeezer and press down firmly. The juice will come out and the seeds will stay behind.

Roll the lemon: Before cutting the lemon in half, roll it on a hard surface like a cutting board. This will help break down the membranes inside the lemon, making it easier to extract the juice.

Cut the lemon correctly: When cutting the lemon in half, try to make the cut as close to the center as possible. This will help prevent seeds from falling into the juice and will make it easier to squeeze out the juice.
Now that you know how to get the most juice out of your lemons, it's time to explore some delicious lemon juice recipes.
Lemon Juice Recipes
I love using lemon juice in my cooking and today I want to share with you some of my favorite recipes that use lemon juice.
First up is a classic summer drink, lemonade.
I'll also share some salad dressing recipes that use lemon juice for a bright and tangy flavor, and some marinades and sauces that use lemon juice to tenderize and add flavor to meats and vegetables.
Lemonade
Sipping on a refreshing glass of homemade lemonade is the perfect way to beat the heat on a hot summer day. Lemonade is a classic drink that can be made in a variety of ways depending on your taste preferences.
When it comes to flavor variations, the possibilities are endless. You can add in other fruits like strawberries or raspberries for a fruity twist. Or, if you prefer a tangier taste, you can add in some lime juice. Some people even like to add in a splash of carbonated water for a fizzy kick.
If you're looking to cut down on sugar, there are many sugar alternatives you can use when making lemonade. Stevia, honey, and agave nectar are just a few sweeteners that can be used instead of traditional sugar. Using a sugar alternative will give your lemonade a different taste, so it's important to experiment with different options to find the perfect balance of sweetness.
Transitioning into the next topic, dressings are another way to incorporate lemon juice into your meals.
Salad Dressings
You can elevate your salads by adding a zesty kick with homemade lemon-based dressings. They're easy to make and have been known to enhance the flavors of your greens. Lemon juice pairs well with olive oil, vinegar, honey, mustard, and herbs like thyme and oregano.
Some dressing variations include lemon vinaigrette, which is a simple blend of lemon juice, olive oil, salt, and pepper. Lemon tahini dressing combines lemon juice, tahini, garlic, and water, creating a creamy and tangy dressing that's perfect for Mediterranean-style salads.
Pairing suggestions for lemon-based dressings include arugula and spinach, which have a slightly bitter taste that's balanced by the acidity of the lemon. Tomatoes and cucumbers pair well with lemon dressing, as they're juicy and refreshing. Fruits like strawberries and blueberries add a sweet and tart flavor to salads when paired with lemon dressing.
The possibilities are endless when it comes to creating your own unique salad dressing with lemon. Next, let's move on to marinades and sauces that incorporate lemon for a flavorful addition to your meals.
Marinades and Sauces
Get ready to add a zesty twist to your meals with marinades and sauces that feature the tangy flavor of lemon. Lemon juice is a versatile ingredient that can enhance the taste of any dish. It is the perfect addition to marinades and sauces that can be used to add flavor to meat, fish, or vegetables. Lemon juice is also a natural tenderizer, which makes it a great ingredient to use in marinades for tougher cuts of meat.
To make a simple lemon marinade, mix lemon juice with olive oil, garlic, herbs, and salt. This marinade can be used to marinate chicken, fish, or vegetables. The tangy flavor of lemon pairs well with many different herbs and spices, such as thyme, rosemary, and cumin. Lemon juice can also be used to make a variety of sauces, including a classic hollandaise sauce or a tangy lemon butter sauce.
Alternative uses of lemon juice in marinades and sauces include combining it with honey for a sweet and sour flavor, or mixing it with soy sauce for an Asian-inspired marinade. Lemon juice can also be paired with other citrus fruits, such as lime or orange, to create unique flavor combinations. With so many options, adding lemon to your marinades and sauces is a simple way to elevate the taste of your meals. Moving on to the next section, let's take a look at the nutritional information of lemon juice.
Nutritional Information
As I'm exploring the nutritional value of lemon juice, I'm eager to dive into its calorie count and vitamin and mineral content.
This information is crucial for those who're health-conscious and looking to incorporate this citrus fruit into their diet. By understanding the specific nutrients found in lemon juice, we can make informed decisions about how to use it in our meals and drinks.
Calories
If you're counting calories, half a lemon contains only a few and won't significantly impact your daily intake. However, it's important to note that the majority of the calories in a lemon come from its carbohydrates, with a small amount coming from protein and fat.
Juice extraction is a common way to incorporate lemon into recipes, and it's worth noting that the juice of half a lemon typically contains around 5 calories. Here are a few more interesting facts about the calories in half a lemon:
The acidity levels in lemon juice can actually help to boost your metabolism, which can aid in weight loss efforts.
Half a lemon contains only about 1 gram of sugar, making it a low-sugar option for adding flavor to your water or other beverages.
The juice from half a lemon can be a great addition to marinades and dressings, without adding many extra calories.
While half a lemon may not contain many calories, it's important to remember that it can still have health benefits beyond just its caloric content.
Moving on to the next section about vitamins and minerals, it's worth noting that while lemons may not be a significant source of calories, they do contain a variety of important nutrients.
Vitamins and Minerals
You may be surprised to learn that lemons are a rich source of vitamin C, with half a lemon providing around 21% of your daily recommended intake. Vitamin C is an essential nutrient that helps boost your immune system, aids in collagen production, and acts as an antioxidant to protect your cells from damage.
In addition to vitamin C, lemons also contain small amounts of other vitamins and minerals, including potassium, folate, and vitamin B6.
When it comes to the recommended daily intake and dosage of vitamins and minerals from lemon juice, it's important to note that consuming too much can have potential side effects and interactions with medications, supplements, or medical conditions. It's best to consult with a healthcare professional to determine the appropriate amount for your individual needs.
In comparison with other citrus fruits, lemons are similar in their vitamin C content, but may differ in other nutrients. Additionally, choosing organic vs conventional lemon juice may impact the nutrient content and potential exposure to pesticides.
Overall, incorporating lemon juice into your diet can provide a variety of benefits and sources of vitamins and minerals.
Frequently Asked Questions
How to store leftover lemon juice?
Storing leftover lemon juice is like preserving sunshine in a bottle. To extend its shelf life, transfer it to an airtight container, refrigerate it promptly, and use it within a week.
Can you freeze lemon juice?
Yes, you can freeze lemon juice to preserve citrus. Simply squeeze fresh juice into a freezer-safe container, leaving room for expansion. Label with the date and freeze for up to 6 months.
Is it better to use a manual or electric juicer for lemons?
I've tested both hand and electric juicers and found that hand juicers yield better tasting, fresher juice. Store bought juice can't compare. Ultimately, it comes down to personal preference and how much time you're willing to invest.
How long does it take to juice a lemon?
When juicing a lemon, use room temperature fruit and roll it on a countertop to loosen the juice. Cut the lemon in half horizontally and squeeze firmly. For maximum juice, use a manual citrus press. This process takes about 30 seconds per lemon.
Are there any substitutes for lemon juice in recipes?
I once substituted lime juice for lemon in a recipe and it tasted great. Other alternative citrus fruits include grapefruit and orange. These substitutes also offer health benefits like antioxidants and vitamin C.
Conclusion
So, there you have it – the answer to the age-old question of how much juice is in half a lemon. As you now know, the amount of juice you get from a lemon can vary based on a multitude of factors, such as the type of lemon, its ripeness, and how you prepare it. However, by following a few simple tips and tricks, you can maximize your juice yield and ensure you get the most out of your lemons.
Now, I know some of you may be thinking, "Why does it even matter how much juice is in half a lemon? Can't I just add more or less to taste?"While it's true that you can certainly adjust your lemon juice measurements to suit your preferences, knowing the approximate yield can still be helpful in ensuring consistency in your recipes.
Additionally, if you're trying to watch your calorie or sugar intake, having a better understanding of the nutritional content of your lemon juice can be beneficial.
So, go forth, armed with your newfound knowledge, and squeeze every last drop out of those lemons!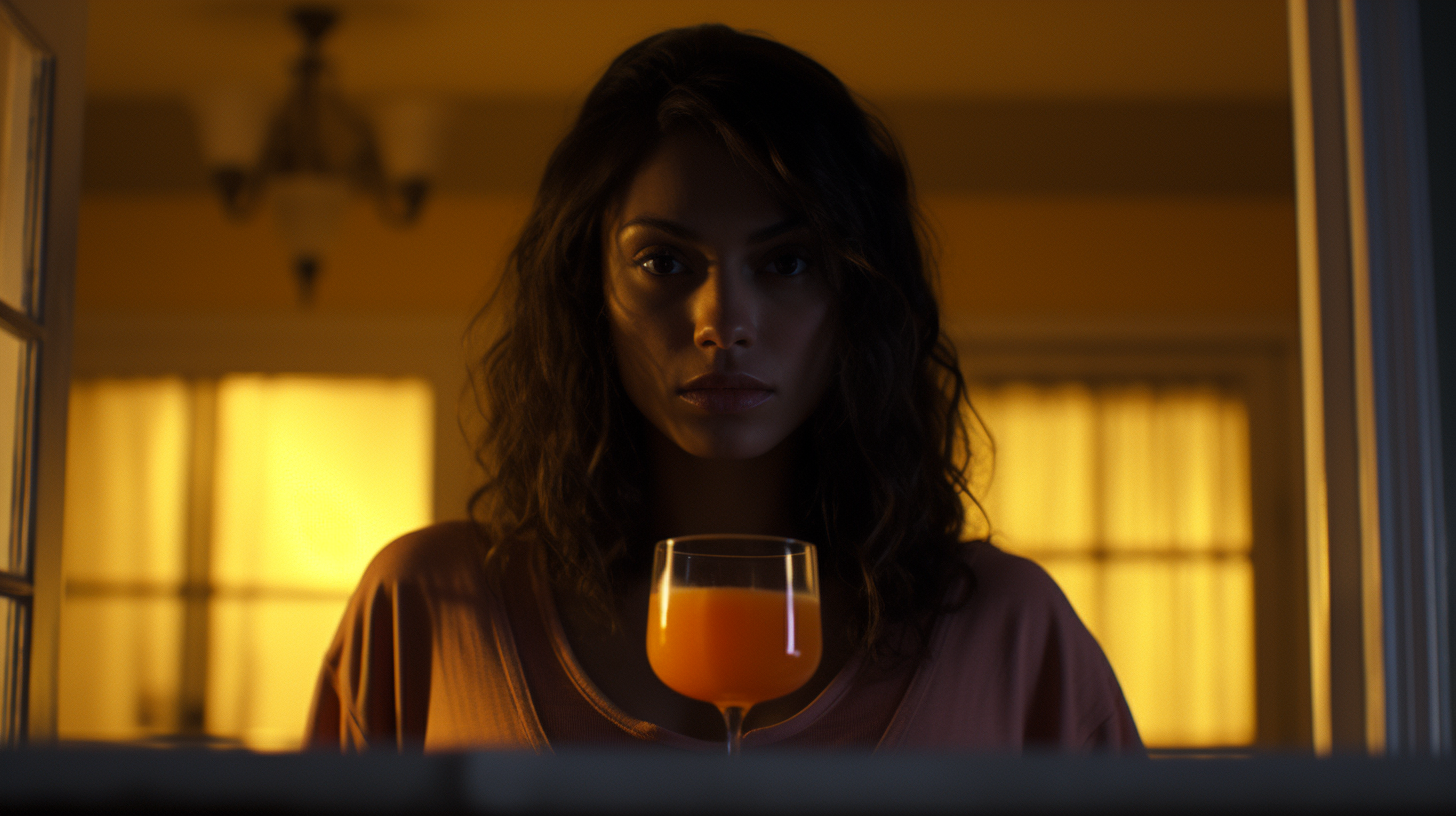 Cindy thoroughly researches juicing trends, techniques, and recipes to provide readers with practical advice and inspiration. Her writing style is accessible, engaging, and designed to make complex concepts easy to understand. Cindy's dedication to promoting the advantages of juicing shines through her work, empowering readers to make positive changes in their lives through the simple act of juicing.