I absolutely love lychees, and I always grab a bag of them whenever I'm at the Asian grocery store. Sometimes, though, I like to mix things up and enjoy my lychees in a different way than just eating them fresh. That's where lychee juice comes in!
It's a refreshing, fruity drink that's perfect for summertime sipping. In this article, I'll be sharing my favorite recipe for making lychee juice at home, step by step.
To make lychee juice, you'll need just a few simple ingredients and some basic kitchen equipment. Don't worry if you've never made juice before – it's really easy, and I'll walk you through each step.
Whether you're craving a sweet and tangy drink to cool off on a hot day or just want to try something new with your favorite fruit, my lychee juice recipe is sure to hit the spot. So let's get started!
Key Takeaways
Precision in measuring is crucial for a well-balanced lychee juice.
Strain the blended mixture with a fine mesh sieve for a smoother texture.
Pair lychee juice with complementary foods to enhance its taste.
Refrigeration is the best way to store and preserve lychee juice, while freezing is a simple method for most home cooks.
Gather Your Ingredients
Gather all the ingredients you'll need for making lychee juice, including fresh lychee fruit, water, sugar, and ice. Make sure to choose fresh lychees that are plump, firm, and have a bright color. You can find them at your local grocery store or Asian market.
Lychee is a tropical fruit that is sweet and juicy, and it's packed with health benefits that make it a great choice for juicing. When it comes to juicing techniques, you can either use a juicer or a blender. Using a juicer will result in a smoother juice, while using a blender will create a more pulpy texture.
Regardless of the method you choose, make sure to remove the seeds and peel from the lychees before juicing them. Now that you have all the ingredients ready, it's time to prepare your lychees for juicing.
Prepare Your Lychees
First, peel the rough, pinkish-red skin off of each lychee using your fingernails or a small knife, being careful not to damage the fruit. A helpful tip is to crack the skin open with your fingernail and then gently peel it away from the fruit. If you're having trouble peeling the lychees, try soaking them in warm water for a few minutes to soften the skin.
It's important to select the perfect lychee for your juice by choosing ones that are ripe and have a vibrant red color with no blemishes or bruises. After peeling the lychees, discard the skin and remove the seed from each fruit. You can do this by gently squeezing the fruit with your fingers until the seed pops out, or you can use a small knife to cut around the seed and remove it.
Once all of the lychees are peeled and seeded, you can move on to the next step of measuring your ingredients for the perfect lychee juice.
Measure Your Ingredients
Once you've peeled and seeded your lychees, it's time to measure out your ingredients. Measuring techniques play a crucial role in the success of your lychee juice. Precision in measuring ensures that you get the right balance of flavors and sweetness in your juice. Here are some tips to help you measure your ingredients accurately and adjust the sweetness of your juice to your liking:
Use measuring cups and spoons instead of eyeballing the ingredients. This will help you get consistent results every time you make lychee juice.

Start by measuring out the lychee flesh. You'll need about 2 cups of lychee flesh for 4 servings of juice.

Next, measure out the water. You'll need 2 cups of water for every 2 cups of lychee flesh.

Add sugar to taste. Start with 1/4 cup of sugar and adjust to your liking. You can also use honey or agave syrup as a healthier alternative.

Finally, add a squeeze of lime juice to brighten up the flavors.
Now that you've measured out your ingredients and adjusted the sweetness to your liking, it's time to blend your ingredients and turn them into a refreshing lychee juice.
Blend Your Ingredients
Now it's time to toss all your measured ingredients into the blender and watch the magic happen! But before you do, let's talk about blending techniques and flavor combinations.
To start, make sure to add the ice and lychee fruit to the blender first. This will help break down the fruit and create a smoother consistency. Then, pour in the coconut water and honey and blend on high for about 2-3 minutes. If you want a thicker consistency, add more ice. If you prefer a sweeter taste, add more honey.
| Ingredients | Measurements |
| --- | --- |
| Lychee fruit | 1 cup |
| Coconut water | 1/2 cup |
| Honey | 2 tbsp |
| Ice | 1 cup |
Blending techniques can differ depending on the blender you use. Some blenders may not be as powerful and require you to blend for a longer period of time. Experiment with different blending techniques to find the consistency you prefer. As for flavor combinations, you can add other fruits such as pineapple or mango to enhance the tropical taste of the lychee juice.
Now that you have blended all your ingredients, the next step is to strain your juice.
Strain Your Juice
After blending all the ingredients, it's important to strain the mixture to achieve a smoother texture and remove any unwanted bits. Straining techniques can vary depending on personal preference, but I find that using a fine mesh sieve works best.
Simply pour the blended mixture through the sieve and use a spatula to press down on the solids to extract as much juice as possible. Repeat this process until all the solids have been strained out.
If you want to add some extra flavor to your lychee juice, this is the perfect time to do so. You can mix in a small amount of sugar or honey to sweeten it up, or even add a splash of lime juice for a tangy kick.
Once you're happy with the flavor, transfer the juice to a pitcher and chill it in the refrigerator for at least an hour before serving.
Next, we'll move on to the final step of making delicious lychee juice – chilling it to perfection.
Chill Your Juice
Now that I've strained my lychee juice, it's time to chill it.
I usually like to refrigerate my juice for a couple of hours before drinking it to enhance its flavor and make it more refreshing.
If you want to enjoy your juice immediately, you can add some ice to cool it down quickly.
Either way, chilling your juice is a crucial step to make it more enjoyable.
Refrigerating Your Juice
To keep your lychee juice fresh and tasty, you'll want to pop it in the fridge as soon as possible after making it. Refrigeration is the best way to slow down the natural process of spoilage and prevent the growth of harmful bacteria. The benefits of refrigeration are numerous, including longer shelf life, preservation of nutrients and flavors, and reduction of waste. Plus, a cold and refreshing glass of lychee juice is the perfect way to beat the heat on a hot summer day.
Alternative cooling methods may include adding ice cubes or placing the juice in the freezer for a short period of time. However, these methods may dilute the flavor of the juice or alter its texture. That's why refrigeration is the preferred method for keeping your lychee juice fresh and delicious. In the next section, we'll explore the best ways to add ice to your drink without compromising its taste.
Adding Ice to Cool Your Drink
If you want to enjoy a refreshing summer drink, nothing beats the feeling of adding ice cubes to your glass. Here are some tips to make sure you get the most out of this classic drink addition:
Use filtered water: The quality of your ice cubes will affect the taste of your drink, so make sure to use filtered water when making them.

Freeze fruits: For an extra burst of flavor, try freezing fruits like strawberries or blueberries to use as ice cubes.

Use ice alternatives: If you don't want to dilute your drink with water, try using alternatives like frozen coconut water or coffee ice cubes.

Serve in a chilled glass: To keep your drink cool for longer, serve it in a chilled glass or mason jar.
When it comes to serving suggestions, consider adding a sprig of mint or a slice of lime to your glass. These simple additions can elevate the flavor of your drink and make it feel even more refreshing.
Now that your juice is chilled and ready to go, it's time to move on to the next step: serving.
Serve Your Juice
Ready to indulge? Nothing beats sipping on a refreshing glass of lychee juice, especially when it's served over ice on a hot summer day. Once you've poured your juice into a glass, it's time to think about how you want to serve it.
One way to make your lychee juice stand out is by adding creative garnishes. You can add a slice of fresh lime or mint leaves to enhance its flavor and aroma. Additionally, consider pairing your lychee juice with foods that complement its taste, such as spicy dishes or light salads.
By pairing your juice with the right food and adding a touch of creativity, you can elevate your drink to the next level. And with that, it's time to store your juice for later.
Store Your Juice
Now that I've made my delicious lychee juice, I need to properly store it. The best way to do this is by refrigerating it in an airtight container.
This will ensure that the juice stays fresh and tasty for up to 3-4 days. If I want to keep the juice for longer, I can freeze it in ice cube trays and then transfer the cubes to a freezer-safe bag.
This way, I can enjoy my homemade lychee juice anytime I want, even if I don't have fresh lychees on hand.
Refrigerating Your Juice
Once you've bottled your delicious lychee juice, don't forget to pop it in the fridge to keep it fresh and cool for later.
There are a few storing options for your lychee juice, but refrigerating it is the most common.
When you're storing your juice, make sure to keep it in an airtight container to prevent any air from getting in and spoiling the juice. You can also add a squeeze of lemon to your juice before bottling it to help preserve it for a few extra days.
The shelf life of your lychee juice will depend on a few factors, such as the freshness of the fruit, the temperature of your fridge, and how well you've stored it. Generally, fresh lychee juice can last up to 4-5 days in the fridge. However, it's always best to check for any signs of spoilage, such as a sour smell or a change in color, before consuming.
Now that your lychee juice is safely stored in the fridge, let's talk about how you can freeze it for later use.
Freezing Your Juice for Later
To preserve your delicious lychee juice for future use, you'll want to freeze it in an appropriate container. Freezing is an excellent way to keep your beverage fresh for up to six months.
Start by pouring your lychee juice into a freezer-safe container, leaving about an inch of space at the top to allow for expansion. You can use a plastic container, glass jar, or even an ice cube tray, depending on how you plan to use the juice later. If you're using an ice cube tray, freeze the juice until solid, then transfer the cubes to a larger container or freezer bag.
Another way to preserve your lychee juice is by canning it. Follow a canning recipe and process to ensure that your juice is safe to store at room temperature. However, keep in mind that canning requires specific equipment, and there is a risk of spoilage if not done correctly. Freezing is a simpler and more accessible method for most home cooks.
In the next section, I'll discuss how to experiment with variations to add even more flavor to your lychee juice.
Experiment with Variations
Try mixing in some fresh mint leaves for a refreshing twist that'll make your taste buds sing with delight. Variations experimentation is key to finding the perfect recipe that suits your taste. Flavor customization is easy with lychee juice, as it pairs well with a variety of fruits and herbs.
Here are three variations to try with your lychee juice:
Lychee and Strawberry: Add a handful of fresh strawberries to the blender with your lychee juice for a sweet and tangy flavor combination.

Lychee and Basil: Add a few fresh basil leaves to your lychee juice for a subtle, herbaceous flavor that pairs well with savory dishes.

Lychee and Lime: Squeeze in some fresh lime juice to your lychee juice for a zesty twist that adds a burst of citrus flavor.
With these variations, you can create a unique blend that suits your taste buds perfectly.
Now that you've experimented with different flavors, it's time to enjoy your lychee juice!
Enjoy Your Lychee Juice!
Now it's time to savor your delicious lychee concoction and bask in the refreshing flavors. But before you take a sip, let's talk about some ways you can enjoy your lychee juice. Of course, you can always drink it straight up, but why not get a little creative with it?
One idea is to mix it with some sparkling water and a splash of lime juice for a refreshing and bubbly lychee spritzer. Another option is to add a shot of vodka for a lychee martini. And if you're feeling really adventurous, try blending the juice with some coconut milk and ice for a tropical lychee smoothie. The possibilities are endless, so experiment and find your favorite way to enjoy this delicious fruit juice.
| Creative Cocktail Ideas for Lychee Juice | Ingredients | Instructions |
| --- | --- | --- |
| Lychee Martini | 2 oz lychee juice, 1.5 oz vodka, 1 oz triple sec, 1/2 oz lime juice | Shake all ingredients with ice and strain into a martini glass. Garnish with a lychee fruit on a skewer. |
| Lychee Spritzer | 1/2 cup lychee juice, 1/2 cup sparkling water, 1/4 lime juice | Combine all ingredients in a glass filled with ice. Stir gently and garnish with a lime wedge. |
| Lychee Smoothie | 1 cup lychee juice, 1 banana, 1/2 cup coconut milk, 1 cup ice | Combine all ingredients in a blender and blend until smooth. Pour into a glass and enjoy. |
So go ahead and try these creative cocktail ideas for lychee juice or come up with your own. With its sweet and delicate flavor, lychee juice is a great addition to any beverage. Enjoy!
Frequently Asked Questions
What are the health benefits of drinking lychee juice?
Sipping on lychee juice is like a burst of energy for my body. The nutritional value is impressive, containing high levels of vitamin C, potassium, and antioxidants. Some benefits include improved digestion, skin health, and immunity.
Can I use canned lychees instead of fresh ones?
Yes, canned lychees can be used instead of fresh ones in juice recipe variations. However, it's important to check for added sugars or preservatives. Fresh lychees may provide a better flavor and more nutrients.
How long does lychee juice last in the refrigerator?
Hey there! Wondering how long your lychee juice will last in the fridge? Well, it all depends on how it's stored. Generally, freshly made juice lasts 3-4 days, while store-bought can last up to a month. Keep it refrigerated and enjoy!
Can I add sugar or other sweeteners to the juice?
Yes, I can add sugar alternatives like honey, agave or Stevia to lychee juice. However, lychee itself has natural sweetness, so it may not require extra sweeteners. Experiment to find the perfect balance of sweetness to suit your taste.
Are there any potential side effects of drinking lychee juice?
Drinking lychee juice may have potential risks, such as allergies. It's important to be aware of any reactions and consume in moderation. Always consult with a healthcare professional if you have concerns.
Conclusion
Well, folks, there you have it – your very own homemade lychee juice! As I take a sip of this sweet and refreshing concoction, I can't help but feel a sense of pride and accomplishment.
It's amazing how just a few simple steps can yield such a delicious result. As the juice slides down my throat, I'm transported to a tropical paradise – the sun beating down on my face, the sound of crashing waves in the distance, and the sweet aroma of lychees filling my nostrils.
It's a sensory experience that I look forward to every time I make this juice. So go ahead and give it a try – experiment with different variations, adjust the sweetness to your liking, and enjoy the fruits of your labor.
Trust me, there's nothing quite like a glass of homemade lychee juice to brighten up your day.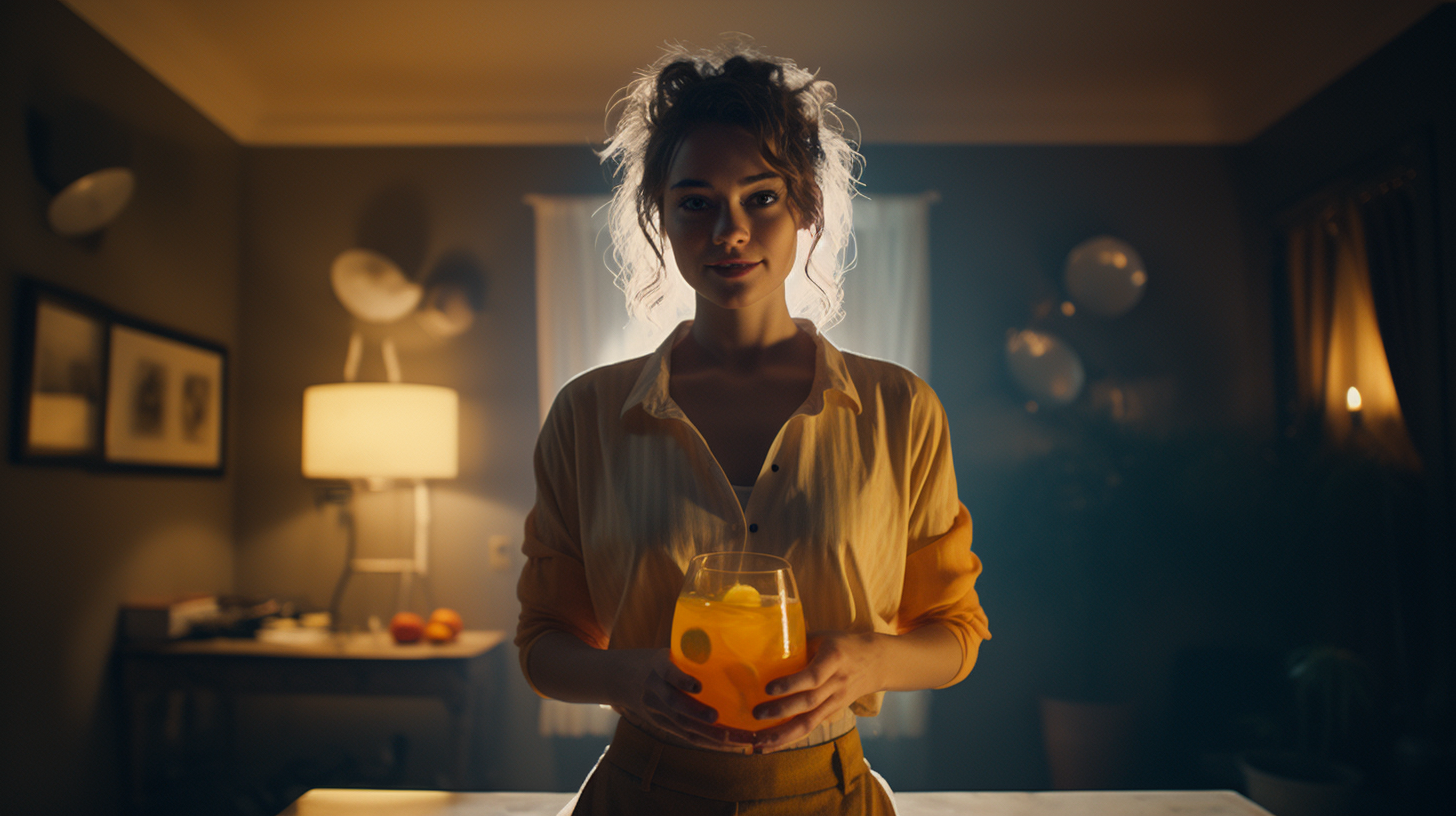 Susannah expertise lies in researching and compiling evidence-based content on juicing, nutrition, and overall health. She is committed to ensuring that The Juicery World offers accurate, up-to-date, and trustworthy information to empower readers to take control of their health. Susannah's goal is to inspire individuals to embrace juicing as a way to nourish their bodies and live their best lives.