As I peel the fresh ginger root, the spicy aroma fills the air, creating a warm and invigorating atmosphere.
Ginger juice is a natural and delicious way to add some extra zing to your diet while reaping its numerous health benefits. From relieving nausea and inflammation to boosting the immune system and aiding digestion, ginger has been used for centuries as a natural remedy and culinary spice.
If you're looking for a quick and easy way to incorporate ginger into your daily routine, making ginger juice at home is a great option. Not only is it simple and affordable, but it also allows you to control the quality and freshness of your ingredients.
In this article, I'll guide you through the process of making ginger juice, from choosing the right ginger to using the pulp and incorporating it into your diet.
So grab your juicer or blender, and let's get started!
Key Takeaways
Fresh, organic ginger is the preferred choice for juicing due to its stronger flavor and higher nutrient content compared to dried ginger.
Proper preparation by peeling and slicing the ginger helps to release its juices and flavors, while grating or crushing extracts more juice.
Juicers produce a higher yield of juice with less pulp, while blenders are more affordable but may require straining.
Basic ginger juice can be customized with water and sweeteners like honey, lemon, or mint, and stored in an airtight container in the refrigerator for up to 5 days.
Benefits of Ginger Juice
You'll be amazed at the myriad of health benefits that ginger juice can offer you. Not only is ginger a delicious spice to add to your meals, but it also has numerous health benefits.
Ginger has anti-inflammatory properties, which can help reduce pain and swelling in the body. It can also help with digestion, by reducing nausea and bloating, and can even help fight off infections due to its antibacterial properties.
Recipes with ginger are also a great way to incorporate this superfood into your diet. Ginger juice can be added to smoothies, used as a marinade for meats, or even mixed with honey and lemon for a refreshing drink.
With all of the health benefits that ginger juice has to offer, it's definitely worth trying out some new recipes and incorporating this spice into your daily routine. When choosing the right ginger, it's important to look for fresh ginger root that's firm and has a smooth skin.
Choosing the Right Ginger
When it comes to choosing the right ginger for making ginger juice, I always consider two factors: whether to use fresh or dried ginger, and whether to go for organic or non-organic.
Fresh ginger is ideal for juicing as it has a stronger flavor and more nutrients compared to its dried counterpart. However, if fresh ginger is not available, dried ginger can also work well.
As for organic versus non-organic, I prefer to use organic ginger whenever possible as it's grown without harmful pesticides and chemicals, making it a healthier choice.
Fresh vs. Dried Ginger
If you're looking for a stronger flavor, opt for fresh ginger over dried in your ginger juice recipe. Fresh ginger has a more potent taste and aroma because it contains more gingerol, the compound responsible for its spiciness. However, dried ginger is more convenient and has a longer shelf life.
Here are some things to consider when choosing between fresh vs. dried ginger for your ginger juice recipe:
Fresh ginger has a juicier and fibrous texture, which makes it ideal for grinding or blending.
Dried ginger has a more concentrated flavor and is better for baking or cooking applications that require a more subtle ginger taste.
Fresh ginger has more health benefits than dried ginger because it contains higher amounts of vitamins and minerals.
Dried ginger is more stable and can be stored for a longer time without losing its flavor.
When it comes to choosing the right ginger for your juice recipe, both fresh and dried ginger have their benefits. However, if you want to maximize the flavor and health benefits, fresh ginger is the way to go.
Next, we'll discuss the differences between organic vs. non-organic ginger and how it can affect your juice recipe.
Organic vs. Non-Organic
Organic ginger, like a juicy ripe peach, has a flavor that is more pure and free from chemical pesticides and fertilizers. Organic farming practices prioritize natural methods of pest and disease control, soil fertility management, and protection of biodiversity.
By avoiding synthetic pesticides and fertilizers, organic ginger is less likely to have pesticide residues that can be harmful to human health. In addition to being better for our health and the environment, organic ginger is also a more sustainable choice.
Organic farming supports healthy soil, water conservation, and biodiversity, which are all essential for long-term food production. Choosing organic ginger also supports farmers who are using sustainable practices and helps to promote a more resilient food system.
Now that we understand the benefits of choosing organic ginger, let's move on to preparing it for juicing.
Preparing Ginger
When preparing ginger, I always start by peeling and slicing it into smaller pieces. This not only makes it easier to handle but also helps to release the juices and flavors.
Depending on the recipe, I may then choose to either crush or grate the ginger for added texture and intensity.
By taking the time to properly prepare the ginger, I'm able to bring out its full potential in any dish.
Peeling and Slicing
Start by grabbing a fresh ginger root and carefully peeling off the tough outer layer before slicing it into thin pieces. For knife safety, always use a sharp knife and keep your fingers away from the blade.
Start by cutting off a small piece of ginger to create a flat surface. Then, place the ginger on the cutting board and use a peeler or the edge of a spoon to remove the skin. Be sure to remove any bumps or rough spots as these can affect the texture of the juice.
Once the ginger is peeled, it's time to slice it into small pieces. Using a sharp knife, cut the ginger crosswise into thin slices, about 1/8 inch thick. For juicing techniques, thinner slices will release more juice and flavor than thicker slices.
If you want to use a grater or a garlic press, grate the ginger into a bowl or squeeze it through the press, being careful not to get any ginger fibers in the juice. With the ginger sliced or grated, you're ready to move on to the next step of crushing or grating.
Crushing or Grating
To easily release the flavor and juice of the ginger, grate or crush it with a tool such as a mortar and pestle, using a back-and-forth motion until it forms a paste-like consistency. This method helps to extract more juice from the ginger than simply blending it in a blender.
While blending may seem like a faster option, it can leave behind fibrous bits that give the ginger juice a gritty texture. Manual crushing or grating also allows for better control over the consistency of the ginger juice, which can range from a smooth liquid to a thicker paste. However, if you prefer an electric option, a food processor or juicer can also be used to make ginger juice.
Just be sure to follow the manufacturer's instructions for using these appliances with ginger. In the next section, we'll discuss the importance of choosing the right equipment when making ginger juice to ensure a smooth and flavorful result.
Choosing the Right Equipment
The key to making delicious ginger juice is having the right equipment, so don't skimp on quality appliances. When it comes to choosing the right equipment, there are a few options to consider. The two most popular choices are a juicer and a blender. In terms of cost comparison, a juicer tends to be more expensive than a blender, but it produces a higher yield of juice with less pulp. A blender, on the other hand, is more affordable and can still produce great results, but it may require straining the juice to remove excess pulp.
To help you decide which equipment is right for you, here is a table comparing the pros and cons of a juicer and a blender:
| Equipment | Pros | Cons |
| --- | --- | --- |
| Juicer | High yield of juice, less pulp | Expensive |
| Blender | Affordable, can still produce great results | May require straining to remove excess pulp |
With this information in mind, you can make an informed decision on which equipment to use when making your ginger juice. Once you've chosen your equipment, it's time to move on to the next step: making basic ginger juice.
Making Basic Ginger Juice
I'm excited to share with you a simple recipe for making basic ginger juice.
All you need is fresh ginger and a juicer.
To balance out the strong taste of the ginger, I suggest adding water and a sweetener of your choice.
Let's get started!
Simple Recipe
Ginger juice is a game changer when it comes to giving your immune system a boost, and this simple recipe is a piece of cake. All you need is fresh ginger, a juicer, and a few minutes to spare.
Not only does ginger juice have amazing health benefits, it's also incredibly versatile in terms of flavor combinations. You can add lemon, apple, or even mint to switch up the taste.
To make this simple ginger juice recipe, start by peeling and chopping a large piece of fresh ginger. Then, feed the ginger through your juicer and collect the juice in a glass. That's it!
You now have a delicious and nutritious shot of ginger juice that will give your body the boost it needs. If you prefer a milder taste, you can add a bit of water and sweetener to the juice.
This will also make the juice last longer, as it can be quite strong on its own. So go ahead and give this simple ginger juice recipe a try – your body will thank you for it!
Adding Water and Sweetener
Now that we've got our simple ginger juice recipe, we can move on to adding in some additional flavors to make it even more enjoyable.
Adding water is an important step to dilute the ginger's strong flavor. You can add in as much water as you like, depending on how strong you want the juice to be. However, make sure not to add too much water, as it may weaken the health benefits of ginger juice.
Another great way to add flavor is by incorporating a sweetener. Honey works well in ginger juice and can help to balance out the spiciness of the ginger. Additionally, honey has its own health benefits, such as being an antioxidant and having antibacterial properties. If you prefer a sweeter taste, you can also add in some sugar or stevia. The added sweetness can make the ginger juice more palatable and enjoyable to drink.
Moving onto customizing ginger juice, there are many ways to personalize your ginger juice recipe to your liking.
Customizing Ginger Juice
You can add honey or lemon to your ginger juice for a sweeter or tangier flavor. Experimenting with flavors is a fun way to make your ginger juice more enjoyable and tailored to your taste buds. Not only does customization add variety to your drink, but it also provides health benefits. For instance, honey is known to have antibacterial and antioxidant properties, while lemon is a great source of vitamin C and can aid in digestion.
To help you get started with customizing your ginger juice, here is a table of flavor combinations you can try:
| Flavor | Health Benefits | Recipe |
| --- | --- | --- |
| Honey | Antibacterial and antioxidant properties | 1 tsp honey per 1 cup ginger juice |
| Lemon | Great source of vitamin C and aids digestion | 1 lemon wedge per 1 cup ginger juice |
| Mint | Soothes upset stomach and improves digestion | 5-6 mint leaves per 1 cup ginger juice |
| Turmeric | Anti-inflammatory and antioxidant properties | 1 tsp turmeric powder per 1 cup ginger juice |
By experimenting with these flavors, you can create a delicious and healthy drink that suits your preferences. And when you're happy with your creation, it's important to know how to store it properly to maintain its freshness.
Storing Ginger Juice
Once you've customized your ginger juice with various flavors, it's crucial to store it in an airtight container in the refrigerator to keep it fresh and maintain its nutritional value. Here are some tips for storing ginger juice:
Use glass bottles or jars instead of plastic ones. Ginger juice can react with plastic and affect its taste and quality.

Label the container with the date you made the juice. Ginger juice has a shelf life of up to 5 days in the refrigerator.

Shake the container before use as the juice may settle and separate over time.

If you have excess ginger juice, you can freeze it in ice cube trays for later use in smoothies or recipes.
Now that you know how to store your ginger juice, let's move on to the next step – using ginger pulp.
Using Ginger Pulp
Ready to get creative with your leftover ginger pulp? Let's explore some fun and tasty ways to use it in your cooking and baking!
First and foremost, ginger pulp can be used as a flavorful addition to your smoothies. Simply add a spoonful or two to your favorite smoothie recipe and blend until smooth. Not only will it add a spicy kick, but it also contains many health benefits, including reducing inflammation and aiding in digestion.
Another way to use ginger pulp is by incorporating it into your stir-fries or marinades. The pulp can add a depth of flavor to any dish, and it pairs particularly well with chicken, fish, and vegetables. You can also mix it with soy sauce, honey, and garlic to create a delicious marinade for your meats.
Using ginger pulp is a great way to reduce waste and get the most out of your ginger root. Now that we've explored some ways to use ginger pulp, let's move on to incorporating ginger juice into your diet.
Incorporating Ginger Juice into Your Diet
When it comes to adding a healthy and flavorful boost to your meals, incorporating ginger juice is a great option. Not only does ginger juice provide a spicy and refreshing flavor, but it also offers numerous health benefits. From reducing inflammation to aiding digestion, ginger juice is a versatile addition to any diet.
One of the easiest ways to incorporate ginger juice into your meals is to simply add it to your favorite smoothie recipe. You can also use it as a marinade for meats or vegetables, or mix it with honey and lemon for a refreshing and healthy drink. Below is a table that outlines some of the benefits of consuming ginger juice and some recipe ideas for incorporating it into your diet.
| Benefits of Consuming Ginger Juice | Recipes for Incorporating Ginger Juice |
| --- | --- |
| Reduces inflammation | Mix with honey and lemon for a refreshing drink |
| Aids digestion | Use as a marinade for meats or vegetables |
| Boosts immune system | Add to smoothie recipes for added flavor and health benefits |
When consuming ginger juice, it is important to be aware of any potential precautions and side effects.
Precautions and Side Effects
Before you start adding ginger juice to your diet, it's important to know about any precautions and potential side effects. Ginger is generally safe when consumed in moderate amounts, but it may interact with certain medications.
For example, ginger may increase the risk of bleeding when taken with blood-thinning medications such as warfarin. It may also lower blood sugar levels, which can be problematic for people taking diabetes medication. If you're taking any medication, it's best to consult with your healthcare provider before incorporating ginger juice into your diet.
In terms of recommended intake, the optimal dose of ginger juice is not yet established. However, most studies have used doses ranging from 1 to 3 grams of ginger extract per day, which is equivalent to about 1/4 to 3/4 teaspoon of ginger juice.
It's important to note that consuming large amounts of ginger may cause stomach upset, diarrhea, and heartburn. Therefore, it's recommended to start with small amounts and gradually increase the dose over time. As with any dietary supplement, it's always best to speak with your healthcare provider to determine the appropriate dose for your individual needs.
Frequently Asked Questions
Can ginger juice be used for weight loss?
I've found that ginger juice can aid in weight loss by boosting metabolism. The benefits of ginger juice for digestion and reducing inflammation can also contribute to a healthier body and weight management.
How long does it take to feel the effects of ginger juice?
Ginger juice is a powerhouse of benefits that can be felt within 30 minutes to an hour of consumption. To maximize its effects, I recommend taking 1-2 tablespoons daily.
Is it safe to consume ginger juice during pregnancy?
As a pregnant woman, I consulted with my doctor before consuming ginger juice. It has been found to have positive effects on fertility, but can also stimulate contractions. It's important to talk to your healthcare provider before consuming ginger juice during pregnancy.
Can I use a blender instead of a juicer to make ginger juice?
Let me spill the beans on using a blender vs. juicer for ginger juice. While a juicer extracts the pure juice, a blender blends the ginger fiber and juice together. Best ginger juice recipes use a juicer, but a blender works too.
Does ginger juice have any effect on blood sugar levels?
Yes, ginger juice can help regulate blood sugar levels in people with diabetes. Studies show that ginger juice benefits for blood sugar control include reducing fasting blood sugar and improving insulin sensitivity.
Conclusion
In conclusion, making ginger juice is an easy and delicious way to reap the benefits of this powerful root. Ginger juice is packed with anti-inflammatory and antioxidant properties that can help boost your immune system, aid in digestion, and even relieve pain.
Remember to choose fresh, firm, and aromatic ginger for the best flavor and nutritional value. When preparing ginger, be sure to peel it and remove any bruises or blemishes. Using a juicer or blender can help extract the juice efficiently, but a simple grater can also do the trick.
Incorporating ginger juice into your daily routine can be as simple as adding it to your morning smoothie or mixing it with sparkling water for a refreshing drink. However, it's important to note that consuming too much ginger can cause side effects such as heartburn or stomach upset. As with any new addition to your diet, it's always best to start with small amounts and consult with a healthcare professional if you have any concerns.
So, go ahead and give ginger juice a try for a boost of flavor and health benefits!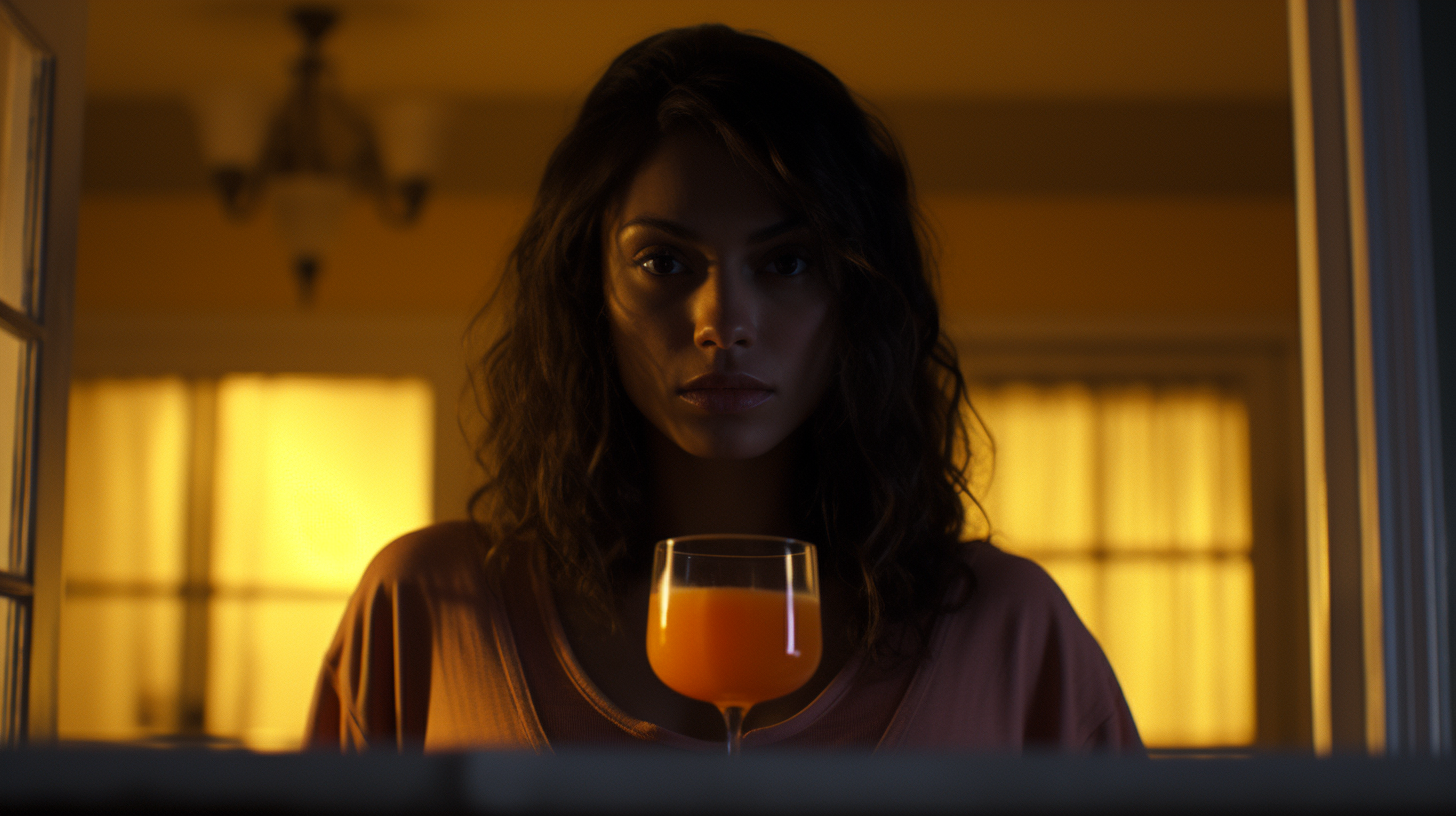 Cindy thoroughly researches juicing trends, techniques, and recipes to provide readers with practical advice and inspiration. Her writing style is accessible, engaging, and designed to make complex concepts easy to understand. Cindy's dedication to promoting the advantages of juicing shines through her work, empowering readers to make positive changes in their lives through the simple act of juicing.